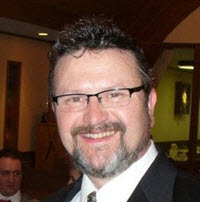 Dr. Timothy Wolff offers a special hands-on approach to patient care and does
Osteopathic Manipulative Treatment
(OMT), read about the difference
here
. He believes that all parts of the body work together; looking at the patient as a whole to reach a diagnosis rather than just treating the symptoms.
This method can provide a better result than drugs or surgery alone. Dr. Wolff teaches students and patients on how to prevent future illness and injury by promoting a healthy lifestyle.
Doctor Review Sites For Dr. Timothy Wolff, DO
Dr. Timothy Wolff is originally from a small farm in Northern Nebraska, where he attended the University of Nebraska and obtained a degree in BioScience. In 1994, he graduated from medical school and completed his residency in Wichita, KS. After marrying his wife shortly after, he decided to stay and practice family medicine in Wichita. Now, after 20 years, he has one of the most respected family medicine clinics in the Wichita, KS area.
Dr. Wolff's advanced knowledge and passion for helping others have helped thousands of men, women, and children in the Wichita area over the years.
As a well-known doctor in Wichita, KS, some of his specialties include:
Board Certified Family Practice
Fellowship in Osteopathic Manipulation
Via Christi Teaching Staff
Medical Review Officer
About Osteopathic Medicine
A D.O. also helps address the physical and emotional needs of kids as they develop into young adults. Some people don't know that innocent incidents, like a toddler falling down, can actually put a strain on a child's low back, sacrum or head. OMT can also help reduce the risk of 'growing pains', caused by injuries and growth spurts, as children grow older.
OMT is not just for kids, OMT doctors are trained to heal the whole person, not just prescribe medicine. OMT doctors, like Dr. Timothy Wolff, are here to get to the root of the problem, helping to potentially eliminate the condition altogether. Read more about the benefits of OMT and the difference between a DO and an MD doctor.
View Dr. Wolff's Health Blog
Kinda late, but realized the background on this social interaction phenomenon through an internet search. Found out i was to do it within 24 hours. Lou Gerhig's disease is a condition many were not aware of. Awareness is KEY! Savannah is gonna like doing this more than her mother.

Posted by Rock Ridge Family Medicine on Monday, September 1, 2014
Posted by Rock Ridge Family Medicine on Monday, September 1, 2014
See more on our blog by clicking here.
Rock Ridge Mission Statement
We will strive to meet or exceed our patients' expectations while improving our operations, facility, and techniques to keep up with the ever-changing world of medicine, health, and wellness.