East Wichita Family Medicine Doctor
Rock Ridge Family Medicine is a comprehensive primary care clinic dedicated to providing the best family healthcare services in a comfortable, stress-free environment. All of our staff members are warm and friendly and devoted to helping each and every patient. Our state-of-the-art equipment and decades of experience ensure that you get the best care possible.
Our mission is to provide compassionate and respectful service and to develop a close relationship with you, our patient. We want to help you maintain your optimal health while making every visit as stress-free as possible.
Our Doctor & Friendly Staff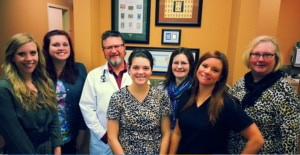 Dr. Timothy Wolff has been serving the East Wichita area for over 20 years and has dedicated himself to helping others while enriching the local community. Doctor Wolff's dedication to the community has help make Rock Ridge Family Medicine one of the most respected family medicine clinics in East Wichita.
All of our staff members have dedicated their lives to helping others and have a passion and drive to provide friendly, compassionate care to every patient. They refer to our patients as friends and family and have grown close to many.
Our doctor and staff have extensive experience in the healthcare field and strive to continually expand their knowledge, education and technological base to help better serve you and to ensure you always receive the highest quality healthcare service possible.
Our Location In Bel Aire, KS