Pregnancy Test Clinic & Help Center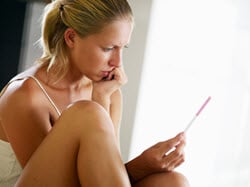 Am I pregnant? One of the scariest things in a woman's life is an unplanned pregnancy.
An accurate pregnancy test can be done in our office. We are a friendly, discreet Wichita care center for pregnancy and other health-related checkup needs for women.
Need help? Have questions? Call us at (316) 630-8200
Why Pregnancy Tests Are Necessary?
Not all pregnancies are perfect, even if you are trying to get pregnant and hoping for a baby, you should still come to get tested to make sure your baby is growing normally and in the right spot. About 1 in 50 women have an ectopic pregnancy or tube baby, and about 15% of all pregnancies result in a miscarriage.
How Do Pregnancy Tests Work?
A pregnancy test is designed to test the level of a hormone called human chorionic gonadotropin (hCG), this can be done through urine or blood. The hCG is produced just after a fertilized egg is formed to the wall of a woman's uterus.
There are many ways to determine pregnancy namely urine, blood, internal and external examination.  Among these tests, urine and blood tests are the most common and widely used. It is seen that blood test accuracy is more than 99 percent and this is the reason we at Rock Ridge Family Medicine, use blood samples for all pregnancy tests.
Are Home Pregnancy Tests 100% Accurate?
If the pregnancy test result is negative, then chances are you are not pregnant. However, negative results can be unreliable.  For example, if you do a pregnancy test too early and it shows negative, you may actually be pregnant, but there may not be enough HCG in your body to give a positive test result.
Why Choose Rock Ridge Family Medicine?
Looking for a discreet, friendly and professional pregnancy test clinic in the Wichita, KS area? If you think you might be pregnant and are considering using a home pregnancy test, we recommend instead coming in to get a Doctor Administered Pregnancy Test for greater accuracy.
To schedule, an appointment makes a call at (316) 630-8200.