Wichita Chiropractic Care | Dr. Timothy Wolff
Looking for a good Chiropractic clinic in Wichita, KS?  You might think you need a Chiropractor, but what you really might need instead is an Osteopath Doctor who is skilled in musculoskeletal issues.
We pride ourselves in our ability to bring people out of a pain cycle and use diet, lifestyle and overall health of the person to identify issues. Dr. Timothy Wolff offers a special hands-on approach to patient care and practices Osteopathic Manipulative Treatment (OMT), read about the difference here.
Osteopathic Manipulation is similar to Chiropractic care but with new age wholistic techniques that treat the whole body and not just the symptoms.
Osteopaths treat the whole body… Medical Doctors and old fashioned chiropractor techniques just treat the symptoms and only does adjustments which may help that particular area.   For Osteopaths, the combination of knowing the anatomy, physiology, and chemistry of the whole body gives the Osteopath the advantage to diagnose and treat the patient in a more effective manner.
The combination of manipulation, pharmaceuticals, and surgery helps get patients the whole body to a healthier state.  Other practitioners, such as Chiropractors, are unable to do this.
We help patients in and around Wichita with a series of musculoskeletal treatment options similar to what a Chiropractor might do, but we do more!
Dr. Timothy Wolff believes that all systems of the bodywork together; looking at the patient as a whole to reach a diagnosis rather than just treating the symptoms.
Difference Between An Osteopath & A Chiropractor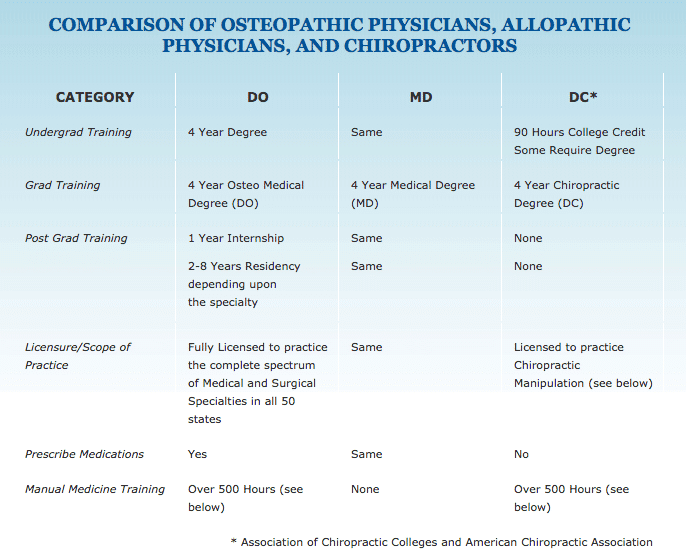 Dr Wolff teaches patients how to prevent future illness and injury by promoting a healthy lifestyle. As a well-known doctor in Wichita, KS, some of his specialties include:
Board Certified Family Practice
Fellowship in Osteopathic Manipulation
Via Christi Teaching Staff
Medical Review Officer
Osteopathic Care For Back Pain & Spinal Issues
Because osteopathic care helps eliminate pressure in the nervous and musculoskeletal system, osteopath's are also able to affect a number of different ailments. It's normal to listen to psychiatric patients state they came in for spine pain, and also remark that their headaches improved. An osteopathic doctor can help with skeletal issues that chiropractors try to manage.
The advantage that osteopathic chiropractic care has is it can be observed in a different number of health states. Even comparatively healthy individuals are able to see improvements. The majority of us stress our bodies a lot. Regular adjustments can help restore balance in the body.
Your spinal cord is responsible for transferring information from the brain to the rest of the body. Your spine is your protective "case" for the most significant structures of your body.
If you think you need a Chiropractor, come try osteopathic care and manipulation with Dr. Timothy Wolff here in Wichita instead.
Osteopathic Treatment of Lower Back Pain
An excerpt from an article at Spine Health shows us the types of treatments Osteopaths use when treating back pain… Unlike chiropractors, osteopathic doctors can be any type of specialist. They may also prescribe medication.
Osteopathic doctors believe that the body is a unified whole and that mobilization of many of its components (especially the musculoskeletal system) fosters natural processes of self-regulation and self-healing.
Osteopathic treatment of lower back pain may include one or more of the following techniques:
Counterstrain – The osteopathic doctor pinpoints an exact position of maximum lower back pain for the patient, slowly positions the patient to a position that provides maximum comfort and then gradually returns the patient to a more neutral position.
High-velocity low amplitude thrusts (HVLAT) – Very similar to what chiropractors do, the osteopathic doctor applies a high-velocity low amplitude thrust to the joint to reduce any restricted movement.
Massage – The osteopathic doctor may perform different massages to stimulate the muscles. See Massage Therapy for Lower Back Pain.
Myofascial Therapy – The osteopathic doctor may employ this soft tissue therapy to release muscular shortness and tightness. For more information, see Myofascial Therapy for the Treatment of Acute and Chronic Pain
Muscle Energy – The osteopathic doctor applies a counterforce to the muscles while they are being used in a specific position and direction, such as when flexing.
Soft Tissue Mobilization – The osteopathic doctor utilizes rhythmic stretching, deep pressure or traction techniques to engage the muscle area around the spine.
Read the full article here.
Muscle Skeletal Adjustments & Care For Kids
The National Safety Council reports in a study of 536 children that 50% had fallen head first from a high place in the first year of life.
Most spinal injuries occur during a person's youth, and sometimes without noticing it.  Tissue injury may result from a single traumatic event, such as improper lifting of a heavy object, motor vehicle accidents, or through repetitive stresses, such as sitting in an improper position with poor spinal posture for an extended time period.
Wichita Residents – Get Osteopathic Adjustment Today – Read Our Reviews